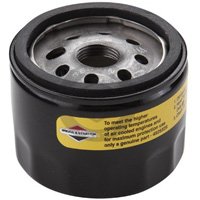 Features
Briggs & Stratton spin on oil filter.
Fits 12 thru 20 H.P. engines.
Used for pressure lubricated engines.
Most Vanguard OHV engines and twin cylinder engines.
Acceptable substitute for 2.25 in....
---


© The Mans Zone Perforance Parts 2018 onwards. All rights reserved. Images, prices & product descriptions are for reference purposes only. All trademarks and registered trademarks are the property of their respective owners. This site may receive compensation if a product is purchased through one of our partner links.