---
Product reviews for Alfred 00 38604 SUPER MARIO BROS WIINEW PSINT AD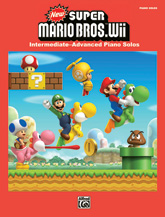 Alfred 00-38604 SUPER MARIO BROS WIINEW - PSINT-AD
The soundtrack to Nintendo's New Super Mario Bros.™ Wii is packed with melodic syncopated themes that sound great on the piano! With this officially licensed sheet music collection intermediate to advanced pianists can dazzle friends and family by playing 17 familiar themes from the beloved video game. Titles: Title Theme Ground Theme Underground Theme Underwater Theme Desert Theme Castle Theme Airship Theme Koopa Battle Castle Boss Battle Toad House Enemy Course Invincible Theme Staff Credit Roll World 1 Map Player Down Game Over Ending Demo. Composed by Koji Kondo Shiho Fujii Ryo Nagamatsu and Kenta Nagata.
Features
Category - Piano Collection
Format - Book
Instrument - Piano
Level - Intermediate / Advanced
Price: $19.56 from UnbeatableSale.com
Click the Logos to view each stores sales


© Video Games 2017 onwards. All rights reserved. Images, prices & product descriptions are for reference purposes only. All trademarks and registered trademarks are the property of their respective owners. This site may receive compensation if a product is purchased through one of our partner links.